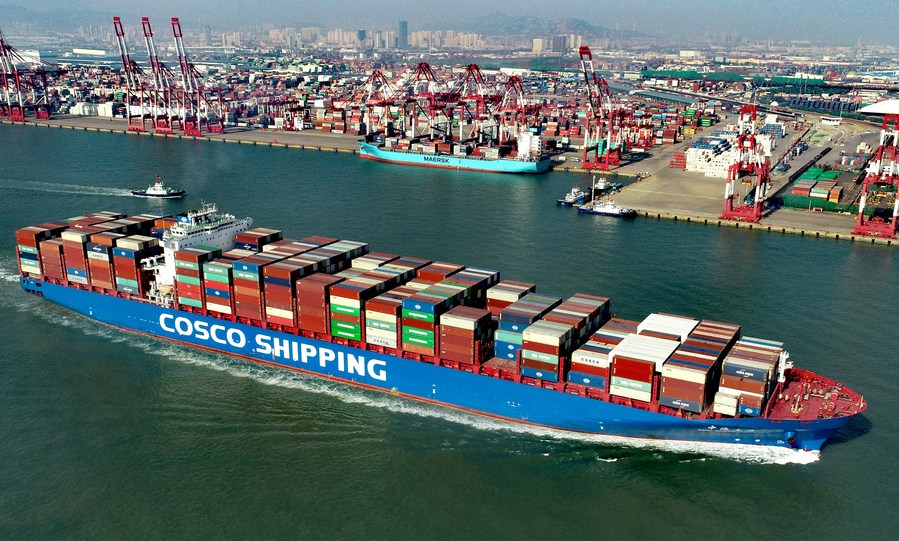 Aerial photo shows a cargo ship pulling out at the Qianwan Container Terminal in Qingdao, East China's Shandong province. [Photo/Xinhua]

China has maintained a relatively rapid growth in export so far this year, Gao Feng, spokesman for the Ministry of Commerce, said at a news conference on Thursday, the Economic Information Daily reported.
Survey showed 43.2 percent of the over 20,000 firms which participated in the 129th China Import and Export Fair said they had at least three months orders on hands.
"China will hopefully maintain the momentum in export in the first half of the year," Gao said.
Data showed China's foreign trade continued to grow in the first four months, registering 11.62 trillion yuan ($1.81 trillion) of the total foreign trade volume, up 28.5 percent from a year earlier, a record high over the same period in history.
But analysis said China also faces challenges in foreign trade. Recent data from the National Bureau of Statistics showed the index of new export orders in May fell below the critical point to 48.3 percent, 2.1 percentage points lower than that of last month, reflecting reduction in foreign orders and weak international demand. In addition, companies said price hike of materials, exchange rate fluctuation and unsmooth marine logistics are other challenges.
Source:ChinaDaily
Editor: "6 days + 365 days" one-stop trading service platform (www.e-ciie.com)