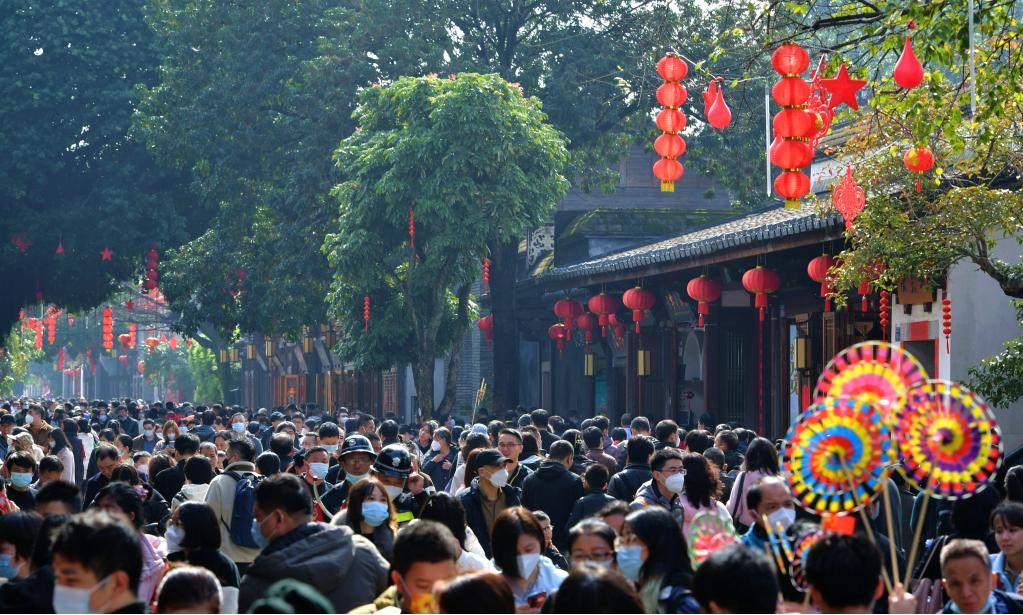 People visit Sanfangqixiang (Three Lanes and Seven Alleys), a historic neighborhood in Fuzhou, East China's Fujian province, Jan 22, 2023. [Photo/Xinhua]

Executives of 405 Chinese and foreign companies are confident in the Chinese economic outlook, as shown in a survey by Global Times Research Center, Global Times reported on Thursday.
The survey collected 405 valid questionnaires of senior and middle-level company executives online, covering 18 industries from agriculture and entertainment to industrial manufacturing and the internet.
China's economic environment is currently rated the highest, with 43.7 percent of respondents considering its environment to be good (including very good and relatively good) according to the survey.
While 35.3 percent and 19.3 percent of respondents see the economic environment in Asia and the global economy were good, respectively. However, over 30 percent of those believe that the current global economic environment is poor.
Executives have higher confidence in the recovery of the Chinese economy than the Asian and global economies over the next three years.
Specifically, from an industrial perspective, 78.6 percent of respondents in the industrial manufacturing sector are optimistic about the Chinese economy, while 54.1 percent of those in the healthcare sector are confident about the Asian economy.
However, the global economy is viewed with low confidence by 60.0 percent of respondents in the automotive industry, 54.3 percent in the IT industry and 48.4 percent in the tourism and entertainment industry.
Opportunities for tourism rest on new consumer demand in the post-pandemic era as the market recovers, such as by promoting camping, family trips and short trips, said Wang Xin, general manager of sales at Wanda Hotels and Resorts.
Tourism markets are showing recovery signs and the aviation industry is turning around thanks to the optimization of pandemic prevention and control policies, said Chen Changyao, general manager of Qatar Airways North Asia.
China's catering industry has broken through and became more resilient from the pandemic, as they have improved services, raised funds and fostered new brands, said Jia Guolong, head of popular catering hall brand Xibei.
Seventy percent of those executives project China's GDP growth rate to be in the range of 3 percent to 7 percent in 2023, with an average forecast value of 4.64 percent.
China's economic outlook for the next five years was the most favorable, with a reference rate of 68.1 percent, much higher than in the countries and regions listed in the survey, such as the Middle East, ASEAN, India and the US.
A faster recovery in domestic consumer demand and new opportunities from the development of the digital economy are seen as the two main positive trends in China for 2023.
Source:ChinaDaily
Editor: "6 days + 365 days" one-stop trading service platform (www.e-ciie.com)