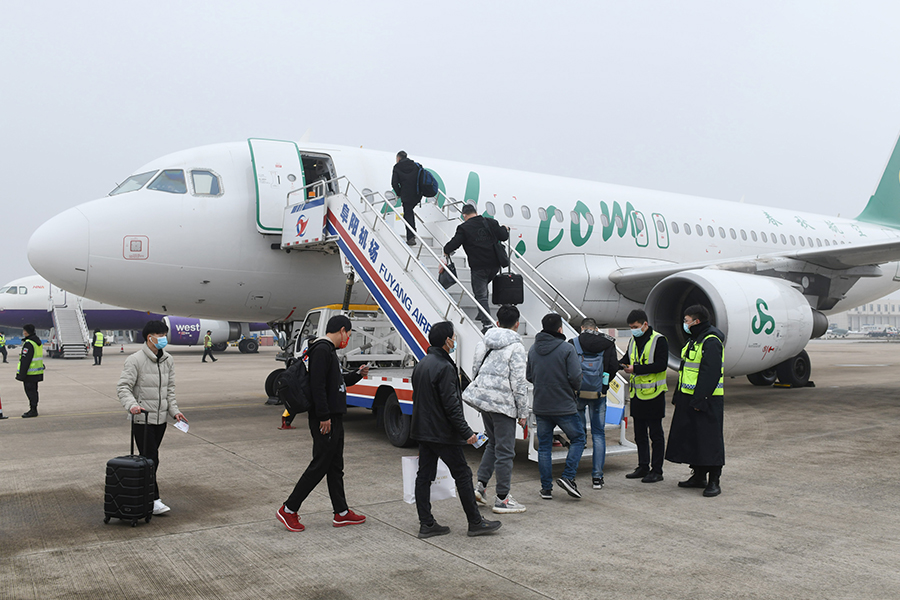 Passengers board an aircraft at Fuyang Xiguan Airport in Anhui province, in January. During the week of Feb 27 to Sunday, the number of outbound international flights in China exceeded 1,700, up some 30 percent compared with the week of Feb 6 to 12 — the first week after outbound group tours resumed. [PHOTO by WANG BIAO/FOR CHINA DAILY]

Domestic airlines hold hope of stronger govt support to shrug off COVID impacts
Domestic carriers are ramping up efforts to resume more international flights with hopes that the government will provide more support to the sector's further recovery, as there is still a long way to go due to the impacts of COVID-19, said the civil aviation sector's members of the 14th National Committee of the Chinese People's Political Consultative Conference.
Wang Junjin, president of Shanghai-based private carrier Juneyao Airlines, who is also a member of the 14th National Committee of the CPPCC, said the pandemic has caused a significant negative impact on the air travel sector and despite the sector's advance on the recovery track, many airlines are still facing the pressures of debt repayments.
Wang highlighted the need to issue more favorable policies to support the resumption of international flights. He said the government might help strengthen bilateral air transport agreements to increase the number of carriers and flights and encourage more domestic carriers to launch international flights.
"The government may further relax issuing visas to foreign citizens and work to expand the range of countries where Chinese citizens can visit visa-free or by visa-upon-arrival for short-term travel," Wang said.
During the weeklong Spring Festival holiday this year, the number of flights operated by Spring Airlines, China's first and largest budget carrier, reached 88 percent and passenger load achieved nearly 90 percent of the levels seen in 2019, before COVID-19, the carrier said.
Since China resumed outbound group tours to 20 selected countries on Feb 6, Shanghai-based Spring Airlines has designed nearly 1,000 different products and sales have been booming, it said.
By the end of March, Spring Airlines is expected to operate 82 weekly flights from nine Chinese cities to Thailand, while the number stood at 162 weekly flights departing from 19 Chinese cities in 2019.
"We are bullish on the recovery potential of the air travel sector, fueled by growing demand from Chinese travelers. China has a huge population and middle-income group, which guarantees the further recovery of the market," said Wang Yu, president of Spring Airlines and a member of the 14th National Committee of the CPPCC.
"Still, recovery depends on pandemic management development and the capacity of international flights," Wang said.
During the week of Feb 27 to Sunday, the number of outbound international flights exceeded 1,700, jumping nearly 30 percent compared with the week of Feb 6 to 12, or the first week after China resumed outbound group tours. More than 80 percent of international flights were heading to destinations in Asia, according to VariFlight, a China-based civil aviation data service provider.
As a member of the 14th National Committee of the CPPCC, which Wang of Spring Airlines considers a great responsibility, his proposals this year suggest that the domestic air travel sector should add real-name verifications of passengers' mobile phone numbers during the process of online flight ticket bookings, and flight changes and cancelations, thus further guaranteeing public security.
For example, according to a carrier which refused to be named in this story, last year, 3 percent of its passengers, or nearly 1 million people, provided virtual mobile phone numbers. In this case, carriers were unable to reach passengers in case of emergencies.
In addition, Wang proposed to further improve the working environment of ground employees at airports and enrich their confidence. For instance, a rest area can be reserved for staff members on tarmacs, especially at remote locations.
Among other domestic carriers, Tianjin Airlines said starting March 24, it will resume flights that connect Tianjin and Zhengzhou in Henan province with Sydney, which will become the first intercontinental regular route resumed by the airline.
Source:ChinaDaily
Editor: "6 days + 365 days" one-stop trading service platform (www.e-ciie.com)