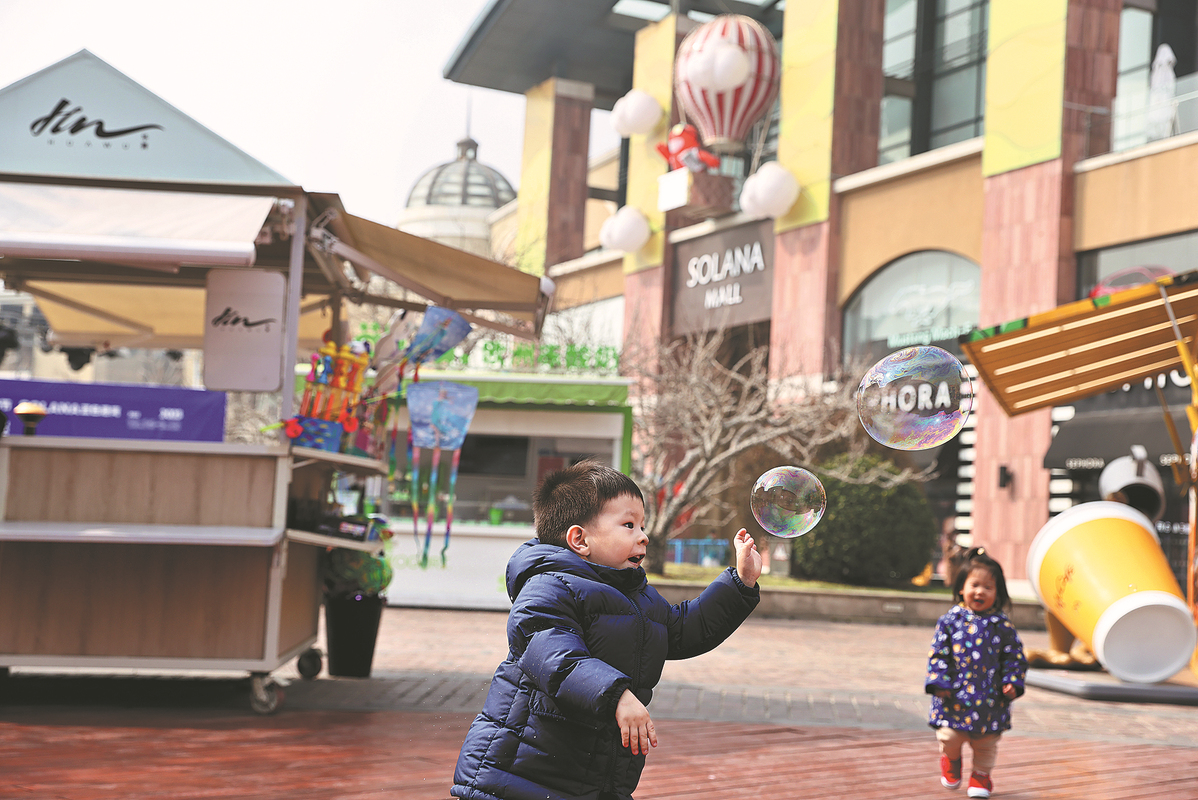 Children play in the stall area at the Solana shopping complex in Beijing on March 7. WANG JING/CHINA DAILY

A grocery outlet has won through despite uncertain circumstances. Peng Yining and Li Peixuan report.
Editor's Note: Retailers and operators in the service sector are seeing business rebound as the economy picks up following the optimization of COVID-19 restrictions. China Daily profiles three small entrepreneurs who are looking forward to a return to pre-pandemic levels of activity.
Last year, in the depths of the COVID-19 outbreak, Ma Dali, a storekeeper in Beijing, volunteered to deliver goods to customers quarantined at home. When some of his other clients heard about it, they told the 41-year-old: "Dear me, you must be careful. Keep your distance from them and don't get infected." Some even said: "Oh my word! Just drop it. What if you get infected during a delivery? It's not part of your job."
However, Ma cared about his customers, so he insisted. The customers who had questioned him began to understand and said: "Well then, wear extra masks or gloves. Promise me you will be very careful."
As Confucius said, consideration for others is the basis of a good life and a good society. Ma's consideration for his customers deepened their relations and brought his new store great popularity in the midst of the epidemic. "The store is doing well. In the first year of operations, we made ends meet. The rent was covered by our profits from the second month," Ma said.
He and his wife opened the store on Feb 15 last year, when new cases were appearing sporadically, despite the zero-COVID policy. Many businesses were affected, and Ma's outlet — Delicious Food Corner, aka DFC — was no exception.
Buying goods from suppliers proved problematic, though, as many popular items from overseas such as frozen fish failed to clear customs because of the possibility that the packaging might carry the coronavirus. Moreover, many people were reluctant to visit the stores as they were wary of getting infected and also because of the need to scan the green QR code, which indicated health status.
Although Ma's store sold some imported goods, it wasn't too badly affected. "Maybe we earned something of a good reputation in the community. Some seniors would come in and buy goods without checking them closely. They just said: 'Let me have the bill. That's it. I have faith in your goods. Your store won't cheat customers.' Those words mattered a lot to me. It was worth all the effort," he said.
Source:ChinaDaily
Editor: "6 days + 365 days" one-stop trading service platform (www.e-ciie.com)