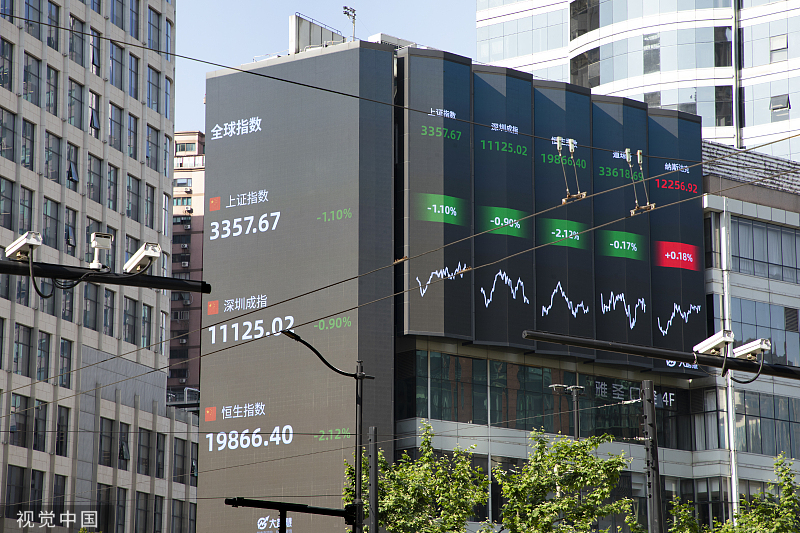 A-share market information is displayed outside of a building in Shanghai on May 9, 2023. [Photo/VCG]

The international appeal of A shares is growing with more high-quality companies listed as a result of China's high-quality development and deepening reform of the country's capital market system, reported Securities Daily on Monday.
China's capital market has become the focus of international capital attention and allocation. The accumulated net inflow of northbound capital has reached nearly 200 billion yuan ($28.72 billion) since the beginning of this year.
On Friday, MSCI announced the results of its quarterly review of the World Index series for May 2023, which will take effect after the close of trading on May 31.
The MSCI China index, the one most attractive to investors, will include 51 new A shares, including 42 in Shanghai and nine in Shenzhen.
The top newly included A shares in terms of total market value are Beijing-Shanghai High Speed Railway Co Ltd, JinkoSolar and SDIC Power.
Based on free-float market capitalization estimates, the adjusted weights of constituent stocks in Shanghai and Shenzhen are expected to be about 61 percent and 39 percent, respectively.
The adjustment is estimated to increase the total market value of A shares included in the MSCI World Index series by about 2 trillion yuan, and the free-floating market value by about 1 trillion yuan.
The adjustment is expected to further increase the A share's weighting in the emerging market index to nearly 6 percent, and may bring 10 billion yuan of net passive tracking funds into the A-share market.
Afterward, foreign investors will be attracted to take the initiative to increase the allocation of A shares.
In the future, MSCI and other overseas index institutions may further increase the inclusion factor of A shares, which is expected to attract more foreign institutions and international capital to allocate A-share assets, as China's capital market accelerates its opening-up pace.
Source:ChinaDaily
Editor: "6 days + 365 days" one-stop trading service platform (www.e-ciie.com)